Components new in Drone market.
Some trending drone parts you would like to have a look at…
There have been many products recently in the market since the last month listing some of the premium and branded stuff below:
MOTORS
1.) TBS MR STEELE 2345KV SILK
Power, but not at the expense of your battery. Torque, but without sacrifice to smoothness. Hand wound, because we're proud of our trade. White, to show off how unique this motor is. The Mr.Steele motor by TBS!
With the TBS Mr.Steele motor, a trend in motor manufacturing is finally broken. No longer do you have to sacrifice batteries to squeeze just a tiny bit more power out of your setup. We also stopped using top-of-the-line magnets or chasing weight requirement pipe dreams to sacrifice reliability and smoothness in flight.
We made a motor to match the flying style and requirements of one of the most popular miniquad FPV pilots, and RotorRiot host, Mr.Steele! It's a motor built for longevity, consistency and silky smooth feel.
A BIT OF HISTORY …
We started out with a couple of corner-stones in motor properties. High kV, low kV. Big stator, small stator. Varying stator laminations, winding techniques and copper diameters. We analyzed the results on a thrust test stand next to all reputable motors, and matched them to the requirements of Mr.Steele's reference motors. We found the closest match to his requirements, and produced 2 different styles to send for Mr.Steele for testing. After running each of them for a few days, we received feedback, made corrections on the motor, and re-made samples. After a total of 5 iterations and over 100 motors sent, we finally managed to isolate the perfect candidate. But the quest was not done! Next we worked on the finish. To produce a white motor, all tolerances were re-calculated. Each and every detail of the motor, down to the C-clip, was investigated, refined and tested. After almost 4 months of ups and downs, today we are able to release and stand behind what we believe is a motor that will cause a paradigm shift for this industry.
TECHNICAL SPECIFICATIONS:
Stator size: 2306
kV rating: 2345kV
Weight: 28.5g
Color: white
Windings: by hand
Awesomness factor: over 9000
Stator lamination: None of your business
INCLUDES
1x TBS Mr Steele 2345kv motor
4x Mounting screws M3x6.5
1x Aluminum Low-Profile Prop nut
For a price of $27.95 these motors seem to be personalised and more towards the free style as Mr.Stelle himself is hence not sure if others would like to get the same and follow the exact flying style with gear.
ESC
1.) Gemfan Maverick 24A ESC
Have a friend who gave a set to a friend of mine which turned out to be awesome and he is very happy with performance and use of the esc. Sounds good awaiting to have hands on this esc.
Features
32-bit ARM Cortex MCU @48Mhz
High RPM(500,000 eRpm, 71,000RPM with a 14Pol Motor)
For Race Multicopters
Support software with multiple functions in computer, can be connectedthrough CleanFlight and BetaFlight
Support 3D mode
Auto timing
Fast throttle response
Smooth and linear throttle response
PWM(25-500HZ), Oneshot125, Oneshot42 and Multishot auto-detected andswitched
3 modes to stop: freewheeling, damped light mode and braking
Synchronous rectification
2-4S LiPo
Over temperature protection (reduce the max power if hotter than settledtemperature, temperature threshold is adjustable)
Low voltage protection
Small size (25 x 13 mm)
No additional capacitor needed*
Drone searching beacon
Changing starting beep freely
Throttle calibration with remote
*Tip: connecting a 25V 100Uf (Low ESR) or above capacitor for better power supply or when the wire connecting batteries and ESC is longer than 20cm.
Specs
Continuous Current: 24A
Max Current: 35A
BEC: No
LIPO: 2-4 cell
Weight: 2.3g(bare)
Size: 25 x 13 mm
Packaging for a set of 4pcs. If you order only one piece, the ESC will be packed in a plastic bag.
Now this is the esc which i was looking forward too but although i havent used it yet would like to use them for a built as they form up as a pcb when placed together… and many other exiciting thngs to read more about this esc i have a separate post where i would update more on them check here : Xracer ESC
FRAME
1.) SKITZO FRAME
QAV-SKITZO Dark Matter FPV Freestyle Quadcopter
Pre-order started on getfpv.com click here
Well some details about the frame :
The Lumenier QAV-SKITZO Dark Matter FPV Freestyle quadcopter is a symmetrical X, ultra-durable, finely tuned airframe designed for high performance FPV Freestyle flying. The QAV-SKITZO was created in collaboration with and named after the flow master himself SKITZO FPV. This freestyle airframe has been designed from the ground up to withstand the rigors of freestyle flying like Skitzo put their airframes through.
The QAV-SKITZO features premium Lumenier carbon fiber with a beautifully finished chamfered edge, giving the quad a sleek look while also improving the durability by removing hard edges. Each plate is sealed with a layer of clear coat paint further strengthening each piece and giving it an awesome finished look. No rough edges or carbon dust to worry about, and no sanding required.
The airframe features removable 4mm carbon fiber arms and 3mm thick top and bottom plates. The arms are sandwiched between the bottom plate and 2mm battery plate giving you an incredible 9mm thick of carbon fiber at the center of the body. Each arm is secured in place with just 2 screws and a threaded aluminum bar on top. This allows you to remove 1 arm by simply taking out 2 screws with just 1 tool.
Not only does this airframe fly amazingly, but it looks great too with Skitzo's original astro-photography featured in the custom sticker sheets. Each QAV-SKITZO kit comes with a complete airframe sticker set showing off some stellar space photography shot by Jonathon himself. Pair these graphic frame stickers with the included custom purple spacers for a truly cosmic look!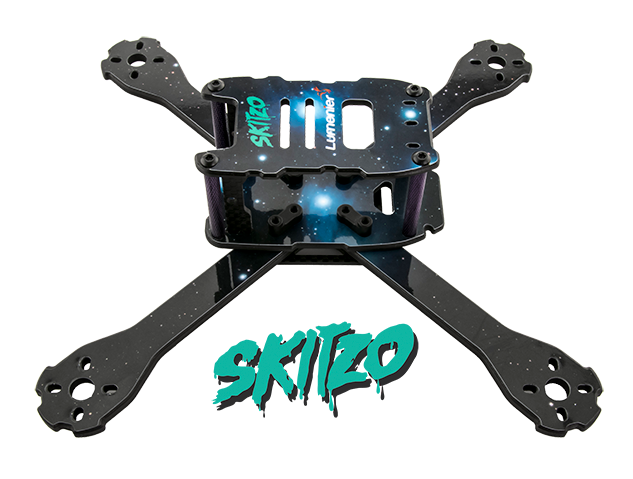 Each 4mm arm and plates are CNC milled out of a solid sheet of premium Lumenier carbon fiber. The outer weave of the carbon fiber runs 100% down each arm of the QAV-SKITZO (0/90 weave), maximizing the strength of the carbon and arms. The center layers are offset at 45 degrees providing even and balanced strength throughout the entire plate.
The top plate includes two accessory antenna plates, allowing for multiple cable ties to lock down your antenna in place, or vertically mount your VTX and SMA connector. No more damaging the SMA connection on your VTX. Alternatively you can use the vertical antenna plate, enabling a vertical VTX install on the tail. The top plate also has a cutout allowing access to your VTX button and LED displays for easy channel adjustment. The 3mm top plate has multiple notches along the side making it a versatile mounting plate for a variety of HD camera mounts.
The airframe comes with high quality aluminum hardware. All screws are premium, black oxide steel. The spacers have a textured grip surface treatment, which facilitates holding of the spacers during assembly and servicing of the airframe. The spacers are 35mm tall giving you plenty of room for all the electronics to be protected inside.
Included with the QAV-SKITZO kit is the popular Lumenier 4Power power distribution board which can be fitted with an optional Pololu voltage drop-down circuit (to 12v or 5v), a XT60 pig-tail. Like the QAV-X and QAV-R, the QAV-SKITZO kit enables mounting of small FPV cameras such as the Lumenier CM-650 in a fully encased assembly which protects the FPV camera during crashes and enables pointing the FPV camera at a wide variety of viewing angles.
Features
Full 3K Carbon Fiber airframe with removable 4mm arms.
Ultra durable 3mm top and bottom plates
Custom Skitzo decal sticker sheet
Compact size for 5″ propellers, 214mm motor to motor.
Black Oxide steel screws
Easy grip purple anodized spacers
"Bumpers" on the end of the arms to protect the motor during a crash
Included Lumenier 4Power power distribution board and XT-60 Pig-Tail to power ESCs and FPV flight electronics. The PDB can optionally be outfitted with a Pololu 12v or 5v voltage step-down (Pololu board not included).
Designed around popular 26mm sized cams in cases such as the Lumenier CM-650 or HS1177.
Lightweight and rigid
Weight
Airframe: 96g (airframe + hardware), 100g (with sticker decal).
Includes
1x QAV-SKITZO Dark Matter FPV Freestyle Quadcopter

4x 4mm carbon fiber arms
3mm carbon fiber top plate
3mm carbon fiber base plate
2mm carbon fiber bottom plate
1.5mm carbon fiber antenna plate
1.5mm G10 vertical antenna mount
1.5mm carbon fiber side rack plate
2x 2mm carbon fiber camera sidewall plates

1x Skitzo Dark Matter Airframe Sticker Sheet
1x Set of black steel screws and aluminum hardware including knurled spacers, cable ties
2x No-slip silicone battery pad
1x Lumenier 4Power Power distribution board
1x set 6mm black polyamide spacers / screws for flight controller
1x XT-60 Pig-Tail
1x Neoprene foam tape
1x Lumenier small lipo strap