Using a proper FPV antenna is the deciding factor in whether or not you will have good reception and ultimately a good flying experience!
FPV antennas come in a few different types:
Dipole
Circular polarized
Helical(only practical for receivers)
Patch(only practical for receivers)
It's also important to know what kind of connector your FPV equipment has, and to match it to the connector on the antenna! There are two types of connectors: SMA and RP-SMA. One isn't necessarily better than the other, but it's just a matter of design. In SMA antennas, the female plug(the one that the other plug screws on to) has a hole, where the extruding wire from the SMA male plug goes in.
In RPSMA antennas, it's the other way around. When you buy your equipment, make sure to read the description what kind of connector your FPV Transmitter and Receiver has.. usually dont opt for the devices which need to be used with adapter for conversion of plugs as they may be a issue later.
NOTE: "NEVER POWER YOUR FPV TX WITHOUT ANTENNAS"
If you power it up without an antenna, heat will build up in the transmitter and it'll burn up!
Reason: As you know Fpv Tx has a lot of power generated in the form of signals and the whole circuit has only one output that is the antennas port these signals usually get dispersed by the antennas in the medium well suppose the antennas is not present these power will be released without getting spreaded and thus causes heat and damages the VTx Antennas provide a surface for the signals to spread in the medium.
Dipole antennas
Dipole antennas, also known as rubber ducky antennas, are very simple – just coaxial cable with a metal casing on the end to transmit or receive the signal.
Rubber ducky antennas have very poor range, especially for drones, because they can only transmit along the surface they can transmit longitudinally so however you place the direction of the antenna it will produce the waves in that direction also as the surface is increased the power dissipated is less, So if you bank hard to the left or right, or try to do a flip, you'll lose signal.
These antennas are also very sensitive to multi-pathing, which is when the video signal bounces off of hard objects, so if you fly near a wall(or walls), you'll lose signal very quick.
Most FPV equipment comes with a rubber ducky antenna out of the box you may keep it as a backup or use for some other DIY projects.
Circular polarized antennas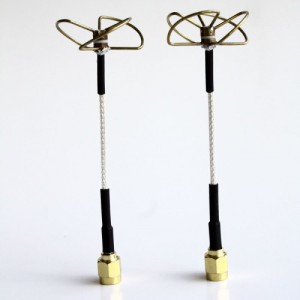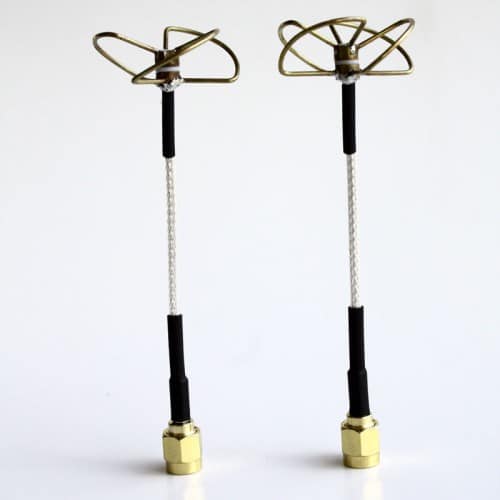 Circular polarized antennas are three-or-four lobed antennas that give much better reception than dipole antennas. They are also known as skew-planar or omni-directional antennas, which means they can transmit and receive equally well in all directions, so no matter what the orientation of your multi-rotor is(up/down/left/right), you'll still get a good signal.
These antennas are also less susceptible to multi-pathing, so you can fly around walls and trees with better video quality.
There are two types of circular polarized antennas – right-hand and left-hand. Right-hand will only receive signal from a transmitter that's sending out a signal with a right-hand antenna and no other. The same goes for left-hand antennas. This polarization is basically phasing of signal in sine wave or cosine wave you will get to know the phase angle if you study deep about trasnmission of signals.
Circular polarized antennas are the most common(for a good reason) antennas in multi-rotor FPV, and as such they come in many different designs.
There are cheap eBay/Chinese antennas, in which there's just a connector, coax cable, and the three lobed or four lobed head. There is no protection for the cable or the head. These antennas are very cheap and functional – though their performance may vary every now and then, and the lobes will easily bend out of shape in a collision.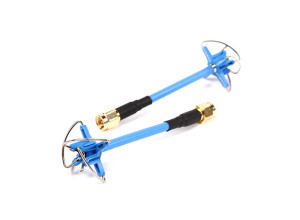 Aomway antennas
A very good brand of circular polarized antennas is Aomway. This is a Chinese brand, but the design is solid, with a protective coating on the wire and plastic reinforcement for the lobes. I personally use the Aomway antennas, and am very happy with their performance. The coating lets me bend the antenna cable into whatever shape I need, and the plastic reinforcement protects the lobes when I crash.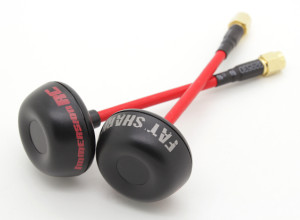 IRC Fatshark antennas. The metal is encased in a plastic covering for protection
Another popular antenna is the ImmersionRC/Fat Shark circular polarized antenna. These antennas are good, but expensive – twice as much as the Aomway. Still, some people trust them by various experiences and preferences. These antennas have a protective coating on the wire that will let you bend it into any shape you need, and the entire lobe is covered with a plastic cover, so it resembles a mushroom. This plastic cover doesn't affect the range.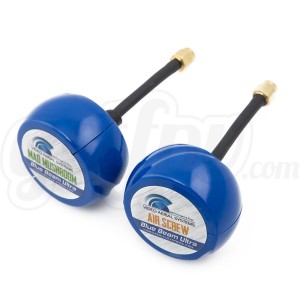 The Best of all circular polarized antennas, though, are the IBCrazy antennas. IBCrazy antennas have great range, great reception, and are almost indestructible. This comes at a cost, though – IBCrazy antennas are the most expensive of the lot. You won't be disappointed, though.
Helical and patch antennas (Highly Directional Antennas)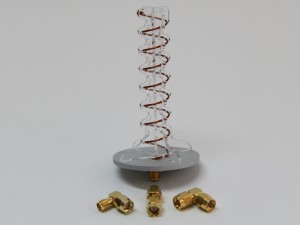 Helical antennas are spring-shaped and have better reception than circular polarized antennas, but with a catch – they have a narrower beam, so they work best if the antenna is facing the transmitting antenna. Helical antennas do receive from the side and behind, but not as good as from the main beam.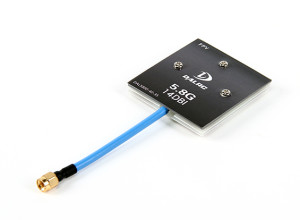 Patch antennas are also directional – they work best when facing the transmitting antenna. If you had a longer range setup(lower than 5.8 ghz) and were flying a plane or multirotor straight away from you, patch and helical antennas are awesome.
But if you are flying a miniquad, in which you'll be going around in all directions around your receiving antenna, helical and patch antennas alone are not a good idea.
Diversity setups
Helical and patch antennas are excellent to use on diversity receivers. Diversity receivers do what the name suggests – instead of just one signal, they receive two signals(from two antennas), and then show you whichever the better signal is. They will also keep switching between whichever is the better frequency, and it'll be seamless, so you won't even realize it.
So if you have a diversity setup with one helical antenna and one circular polarized antenna, you'll see the helical image when flying in front and the circular polarized image when flying around and behind.
Hope this help you understand about various antennas in FPV and related to 5.8Ghz, I personally use the Aomway antennas because they are cheap and have great quality.
Refer the video for better understanding :